In the food and beverage industry, evoking your products taste and smell as a means of marketing is irreplaceable. Sampling remains the most important way of reaching consumers in a taste-driven market. After all, sampling allows consumers to trial a product without obligation - future or current. While product sampling is a key ingredient in any balanced business marketing strategy, it also remains important for consumers. It allows consumers to indulge in a product without capital. For many consumers, this means that they can explore if the taste of a product is right for them. Food sampling toes a fine line between customer acquisition (via reaching new customers) and customer retention (via increasing brand value and awareness).
In the past, we have highlighted specific sampling campaigns that work, delved into the psychology behind product sampling, talked strategy, and even given some tips on types of sampling to entice customers with.
Today, we are going to diverge a little into statistics and use contemporary research to explore the psychology and results behind product sampling. Why is product sampling such a successful way to reach clientele and why exactly does it do such a good job of building brand value? Let's pour over the research and discover exactly why product sampling is such an important marketing tool in the food and beverage industry.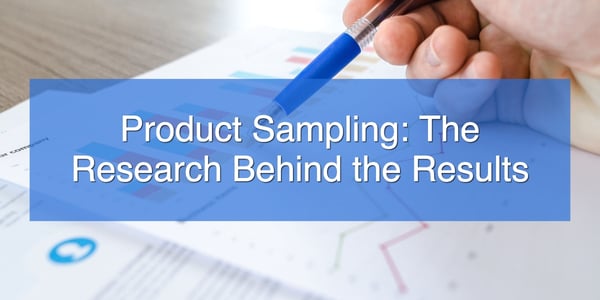 Change Directions
Product sampling has been shown to help consumers switch from a planned to a promoted brand of a product when offered a sample. This allows businesses to direct targeted traffic to specific brands, which, in turn, gives consumers the opportunity to experiment with new products. The benefits here are two-pronged. Not only are businesses better able to direct traffic and affect purchasing behaviors, consumers are trailing more product.
Short-Term Purchase Behavior
The effects of short-term purchase behavior in relation to sampling has been shown consistently in research. When consumers are offered free samples, their short-term purchasing behavior (i.e. the day of the sampling promotion) is significantly increased. So, remember, sampling doesn't only spread a product to consumers quickly, it also urges consumers to make purchases the day of the product sampling. In a way, product sampling is like getting paid to market a product. Beyond short-term purchasing behavior, having a consistent sampling program as part of your marketing strategy has boosted the sales of some grocers as much as 2,000%.
Purchasing behavior intensifies post-short-term. A Cornell University professor showed that customers were significantly more likely (93%) to purchase an upgraded bottle of wine ($10 more) when offered a sampling.
Product sampling's effects on purchasing behavior are still in the midst of academic study. The results so far, however, have been incredible.
Note: Let's be transparent here. Research is mixed on how far the reach of this short-term purchasing behavior is. Some research said it is limited to lower-priced items, while other research shows that it's across the board. Either way, there is certainly a consensus that short-term purchasing behavior is increased.
Brand Trialing
Free sampling research started off with a simple question. Does product sampling increase brand trailing (purchasing the product post-sampling)? The answer has pretty much always been a consistent yes. Product sampling along with "bonus packs" have been shown consistently to increase consumer product trailing rates. Let's take a quick look at the overwhelming amount of research on this particular topic.
The list goes on and on.
Word-of-Mouth
One of the more interesting papers to come out of product sampling research was in 1977. Two researchers found a positive correlation between product sampling and word-of-mouth reviews. In an essence, positive product sampling experiences (ones where the host was kind and sharply dressed) significantly affected consumers want to verbally transmit positive opinions to others. We think this is important. Word-of-mouth advertising is very difficult to build, and it remains one of the most commonly forgotten forms of marketing in the modern tech-driven world. Make no mistake, word-of-mouth marketing can still make or break a brand, especially in relations to food and drink.
One common mistake of modern marketing is relying on the fiction that word-of-mouth reviews are predominately a social-media driven phenomenon. According to The Journal of Advertising Research over 75% of all word-of-mouth marketing was driven offline, with only 10% happening through social media-driven platforms. Product sampling is a great way to drive offline word-of-mouth advertising in a consistent way.
Research on product sampling is still young, at least in the academic world. Advertising research agencies have been showing significant findings on product sampling for years. Product sampling is the best way to reach a wide audience, increase sales, draw in consumers, and target consumers towards directed products.
Would you like to know more about our food and sampling programs? Contact us. We have the experience and drive to help you build a product sampling campaign. Sampling drives us as much as it does consumers.