Every brand faces the unique challenge of finding the ideal way to market your products. While everyone today is involved with social media, inbound marketing, and strategic paid advertising, the specifics of your campaigns and the things that make it special compared to every other modern business must be determined both by the product itself and the preferences of your target audience. Some audiences like flash with big live presentations and world wide online events. Others prefer a more modest and practical approach with coupons and reward codes as the primary interest driver.
However, if you sell something that is as much an experience as a product, then in-store sampling events could be the perfect way to raise awareness and enthusiasm on the local buyer level. In store sampling allows you to reach out and meet customers where they shop, then invite them to take just a moment to enjoy and consider buying your product. Not sure if you have a product that is sample-event friendly? Here are the top five great sample products, though feel free to get creative with your own inventory as well.
Food and Snacks
The most commonly seen form of in store sampling is in grocery stores, almost universally offering some kind of tasty treat on a toothpick or in a little plastic cup. From marketing a new cheese to showing off several ways to use a dessert topping, sampling campaigns have always been used to stir up interest in food products. By giving people a free taste, they have a chance to know for sure whether or not they will enjoy your product before they buy and if they like the product a lot, you may just have a new convert.
Perfume and Cologne
Choosing a personal scent is an incredibly personal decision. Not only does it make you smell good, it's also how people will remember you. This means that while perfume may be sold in sealed bottles, few people want to commit to a scent they haven't smelled yet. This is why perfume counters often offer samples in order to help buyers make a choice. Along the same lines, if your goal is to promote a specific perfume, then offering people a 'taste' is a great way to show them that the scent smells wonderful and could either flatter your customers or serve as an appreciable gift to someone else in their lives.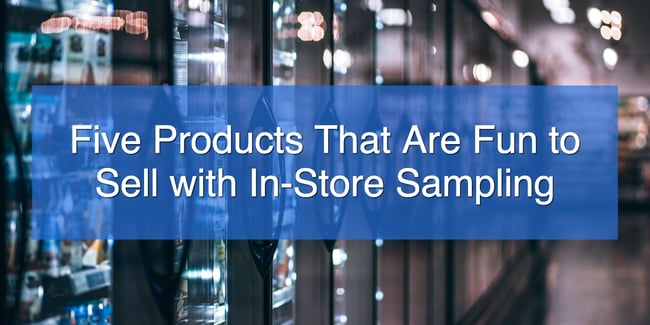 New Toys and Gadgets
Of course, food and perfume aren't the only ways to delight the senses and entice new buyers in with a sampling program. Often new gadgets, toys, and devices need a little bit of introduction before people realize just how much fun they can be. Toy and tech stores in shopping malls often use this technique to draw in new customers who came for something else while similar displays occur in department stores and bit toy emporiums to introduce new products to customers who didn't know they wanted to play with the item until they saw it in action.
Alcoholic Beverages
When it comes to alcoholic beverages, people tend to get set in their ways. They explore a little at first, find what they like, and usually order the same on to five drinks every time they go out. For companies that sell alcoholic beverages looking to introduce a new flavor or promote a particular drink, often the best way to shake people out of their rut to try something new is to offer them a free sample. Sips of wine, half-shots of liquor and little creative cocktails will show off the appeal, flavor, and quality of your beverage in a way that can quickly add a new favorite to everyone's list.
No matter what you sell, if it delights the senses then your marketing can absolutely be boosted with a few strategic sampling campaigns.