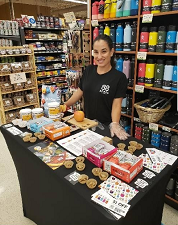 In-Store samplings and demo's are a proven and fun way to engage with customers, spread the word about your products and services, win new customers and boost sales.
Sonas Marketing has worked with hundreds of brands of all sizes to help boost their retail presence and sales, and in the process deepen relationships with their retail customers.
Contact us today to discuss your needs and get some pricing.
5 Great Reasons to use In-Store Sampling & Demos:
1. Sell in Support Service.
Offering a strong sampling program to a retailer can help get your brand into a trial. Retailers look for and appreciate the commitment from vendors to help give any new brand a strong start.
Boosting initial sales performance with a strong in-store sampling campaign will set your brand up for a favorable review by the retail buyers and can greatly increase the trial outcome as well as leading to store front expansion into additional stores.
Our suggested "Sell In" campaign would be 2 samplings per store per month for an initial 2 months and 1 sampling per store per month thereafter. Having a well stocked distributor and ensuring no inventory gaps is critical. Ask us about adding in our Retail Merchandising Service to help mitigate against out of stocks and the negative impact that can have on sales volume.
2. Store Front Expansion.
Retailers measure sales per shelf inch / floor space and will expand SKU's and number of stores for better performing brands. If your initial or ongoing sales are low, its likely you are facing a delisting in some or all stores. If alternatively your sales are higher than expected, then getting additional shelf space and store fronts has just become easier !
We often see our most successful clients get started in approximately 30 stores, embrace a strong initial sell in sampling campaign and gain an additional 30 to 100 store fronts upon which they repeat the process. Taking a targeted approach and planning on a retailer by retailer basis is highly recommended. This is the best ROI for the cost and investment in a sampling campaign.
3. Long Term Store Level Sales Growth.
Once you are firmly established in a group of stores, a consistent long term approach to In-Store sampling delivers our clients the best results. Our client feedback is that samplings on a monthly basis can deliver steady 6% to 8% sales growth per store, per month. That level of monthly growth will increase store level sales by 50% in just 6 months and double sales after 10 months :)
When done well, running both a strong Sell In Campaign and an ongoing regular monthly Sampling Campaign can dramatically transform sales and deliver strong store level profitability.
4. Targeted Shelf Space Maintenance.
Are you in danger of being delisted in some weaker stores ? If so, it can be the start of a delisting cycle that can lead to chain wide delisting. Sampling can mitigate against this.
Targeting these under performing stores with In-Store samplings and some price promotion or coupon's is a great way to help boost sales, maintain shelf space and avoid delistings. Poor sales performance in some stores, can lead to a negative review by buyers with a risk of a chain wide delisting coming next.
5. Excess Inventory & Supply Chain Bottlenecks.
If after an initial sell in or a promotion period, sales have been poor and some stores have excess inventory, using in-store samplings with a price promotion is a great way to move excess inventory out the front door, rather than having inventory returned to you or your distributor by the back door. Having a plan to avoid large credit notes and/or inventory write downs is an important part of succeeding in retail.
10 Great

Tips for Better Results with your In-Store Sampling Investment:
Get the Best Brand Ambassadors Available

Planning any campaign starts with what is required to attract quality Brand Ambassadors to run with your program.Good Brand Ambassadors are in high demand and avoid single or one-off events.

Schedule 6-8 Weeks Out.

The better Brand Ambassadors have their calendars booked 4-8 weeks in advance.

Pay Well.

Great Brand Ambassadors are always in high demand and get paid well by the brands that want to retain them.

Focus on Key Regions for Long Term Sales Growth.

Concentrate any budget into a small number of region's for a minimum 3 months or preferably a 6-12 month campaign.

Give Brand Ambassadors Enough Work to Keep them Committed.

Create a program that can give any Brand Ambassador 10-15 events per month, within a 45 minute radius.

Avoid Single or One-Off Programs.

They generally are a sunk cost and don't generate any noticeable long term impact on sales. They are sometimes needed to deliver on commitments made to retail buyers. However longer term campaigns, 3-12 months are the proven way to make a real impact on store level sales volume. 6, 12 and 24 month campaigns can double or triple sales volume when executed well. These longer term campaigns also build a strong, meaningful relationship with store level retail management and buyers to further support your brand.

Don't Hire Unknown Staff on the Internet.

These are generally unreliable people that agencies like Sonas have blacklisted and don't use. They are prone to high levels of call outs, no shows and poor quality.

Have a Comprehensive Event Reporting System.

Having an event reporting system that confirms the Brand Ambassador is at the correct location at the right time is essential. Collecting event data and pictures that are accessible in an easy to read, standard format helps event reviews and data analytics.

Educate your Brand Ambassadors.

Sonas uses a 4-step learning system which includes weekly mentoring and our online training and testing portal: The Sonas University.

Create an Experience.

Add in coupons or swag to create a more enjoyable and memorable event.