Product sampling has proven to be a powerful marketing tool for many reasons. It's easy for the consumer to participate in this type of focus group, because you bring the product samples right to where the shopper is doing business. As the sampling vendor, you get access to a diverse group of your target audience, in their demographics, and in the "purchase or not purchase" funnel of the customer journey.
Choosing the Right Product Sampling Strategy
While manning local venues with sampling booths of your products sounds like a straight-forward effort, it actually takes a well-organized plan to pull off a successful product sampling campaign. According to Small Business Chron, a leading advertising and marketing industry analyst:
Offering product samples to prospective consumers is beneficial, as it increases exposure, gives the consumers a taste of what's to come and allows them to feel confident with their purchase. By working sample distribution into the marketing budget, the business will have the upper hand when it comes to competition.
When choosing a product sampling company to partner with, it's crucial that both teams are in-line with the end game. One product sampling campaign may return better results for increasing the volume of positive reviews, while another may perform better at increasing brand recognition across multiple product lines. And finally, some products simply do not lend themselves well to in-store sampling, and this is where a company that has multiple marketing strategies available can be of the most benefit.
Other types of product marketing campaigns could include:
product event hosting

alcohol sampling events

brand ambassadors

community street teams

nationwide tradeshows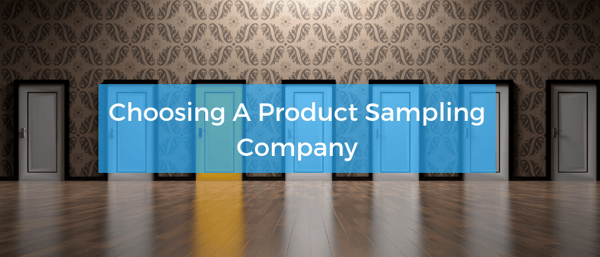 Determining the right sampling campaign can also be determinant on which type of sales campaign is being launched. Is it a new product introduction without any prior sales or reviews? Is it a seasonal item with a fixed time window for promotion? Or is it a niche product that has a specific target audience and needs a higher conversion rate? When you choose a product sampling company, you want them to be specific in identifying your target audience, and have a methodical approach to product choice, product placement, and product sampling.
Choosing a Product Sampling Company
The best product sampling companies will work with your teams both on-premises and during off-site strategizing to create the best plan to influence consumers with sampling. The goal in any sampling campaign is to increase recognition and demand for the product while also gaining direct marketing insight as a result of the sampling process. Here are some key features to look for when comparing product sampling companies.
Understands Product Sampling Psychology
The best product sampling campaigns will identify the target consumer's needs and positions the sampling to address those concerns. Mentally, the consumer is looking for a product that is available, at the right cost, and fits their preferences. At the same time, the free sampling of the product will subconsciously provide a certain level of satisfaction, and the consumer will generally want to reciprocate by making a purchase. The give and take nature of free product samples is good for the brand and good for the consumer as it supports a vision of generosity on the side of the company.
Has Built a Portfolio of Sampling Case Studies
Marketing campaigns depend on conclusive data. Choose a product sampling company that bases it's process on a firm foundation of what works and what doesn't work. Case studies can make complex concepts, simpler. These are former, real life sampling campaigns that have been conducted, analyzed, and the results demonstrate the effectiveness of the study's methods. Expect the product sampling company's product staff to deliver timely and insightful reporting and analysis while also making sure field operations run smoothly and easily.
Takes Methodical Steps in Campaign Development
Your company expects results after a marketing campaign. These results aren't happenstance. They are the result of following a strategic plan and taking methodical steps in every phase of campaign development. Determining target audience, choosing a social media influencer, building the sample presentation, telling the product story, and finally - expanding the product's reach after sampling are all steps toward a successful campaign.
To discover how Sonas Marketing can direct your next product sampling campaign - from identifying your target consumer to increasing brand recognition, contact us for more information. We specialize in retail promotions and executions that deliver results and not excuses. Our live-marketing campaigns bring in local expertise and industry knowledge. We couple that with leading industry technology to bring customized analysis and reporting that can direct your sales and marketing teams.