Selling product through an event has been a key marketing tactic for businesses since at least the 1800's when Great Britain's Great Exhibition showcased the manufactured products of the United Kingdom. While many aspects of marketing have been digitalized in the mobile, social, and big data economy, product sampling still requires that a salesperson and a prospect spend some time in the same place.
Specific events require specific types of product sampling, from beverage events to manufacturing conventions, each exhibition is designed to connect businesses with customers.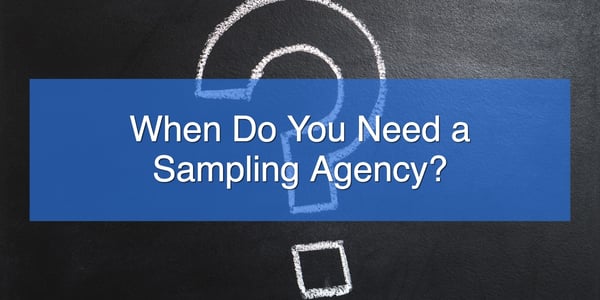 What is a Sampling Agency?
A sampling agency is a marketing agency that understands the ins and outs of live events and providing samples to potential customers. A sampling agency has to understand both modern mobile and social marketing but also understand the time-tested techniques of presentation and display.
While many businesses approach live events with the idea that they can staff their own booths, a marketing agency understands that the business owner and salespeople need to be free to leave the booth. Unless your business has the staff to guarantee that someone is at a display table or booth at all times during a live event and still be present at dinners, lectures, and networking events, you will need to hire help.
A sampling agency provides that help. A marketing company designed to manage event sampling will have experience with multiple trade shows, hiring local talent for modelling products, and be able to ensure that adequate staff are available throughout the duration of the event.
Marketing Events
Different industries and events require different staffing and processes. A specialized sampling agency will have experience with street events, trade shows, conventions, and comic-cons type events. For every different type of event, your business has different needs. The target market for a parts manufacturer at an auto trade show is going to be significantly different from the target market for a craft brewery at a craft brewery event. One is targeting B2B, the other is targeting B2C.
As you can see, a marketing agency that specializes in engagement marketing will have a broad range of skills focused on one major goal: engaging the right people through live events. It is why a sampling agency may recommend that their customer host a trade show or just host a live tasting in their stores. Each business is unique and that means that your live event marketing should be just as unique as your business.
Types of Materials for Sampling
There are several different types of products to provide samples of at events.
Design Prototypes - The automobile industry uses events to showcase their prototypes in development. Showing a prototype will be different than other product samples because it is often demonstrating one aspect of a business's design process.

Beverages - Size of samples, presentation and possible food pairings all matter in presenting beverage samples.

Food - In addition to the requirements of beverages, food samples have to deal with allergens, with utensils, and with preparation.

Materials - Showcasing samples of goods and materials for use in business processes is not always the prettiest marketing, but it is necessary for many businesses to do well.

Others - Demonstration of products will be as varied as the market is.
Since the types of materials are as varied as the marketplace, each business's sampling needs are unique. Rather than attempting to apply templates to engagement marketing and follow the latest trends, an engagement marketing company will have the experience and knowledge to create custom event management plans for each of their customers.
Local Talent
A sampling agency will have national presence so that they can build on relationships in the event city to provide staff for the event. This saves on travel costs for the company and the agency, including expensive per-diems and the lower morale from sending your employees away from home to staff a demonstration table.
Understanding Brand Ambassadors
A sampling agency understands technology and analytics, presentation and demonstration, but most importantly, a great sampling agency acts as brand ambassadors for their customers. When presenting a product sample, the presenter is seen as the face of the brand. This is what an ambassador does, and it needs to be at the heart of any marketing agency that will help your organization do sampling and events.
Being brand ambassadors will be the passion of any great sampling agency. When you are looking for an agency to represent your business at an event or trade show, ask how they become brand ambassadors for their customers. If their eyes light up and they tell you exactly how their actions as brand ambassadors bring happiness to their customers, you will know you have the right agency.