Whether your business is new to trade show exhibitions or you have been exhibiting at trade shows for decades, you likely know how important it is to maximize your return on your trade show investment. Companies regularly pay over $25,000 USD to exhibit their products and services in a 20" x 20" space for only two to three days, highlighting the importance of maximizing every available moment. A high degree of preparedness is essential, and you need to ensure that you send experienced, professional staff to represent your company. Below are six qualities to seek in your trade show staff.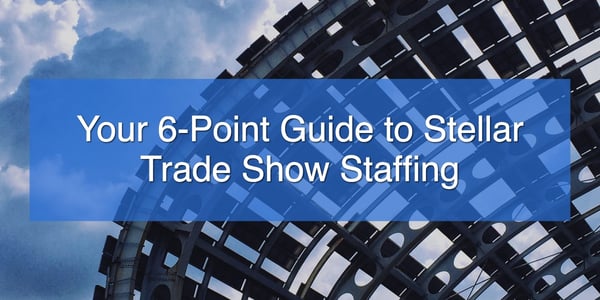 1) Flawless representation of your brand
"Studies show that your first impression has a high correlation with the actual long-term status of your relationship. There's not much time for you spare on your initial presentation either.

Our first opinion of someone forms in only one tenth of a second."

- James C. Gibson, Marketing and Sales Manager at Metro Exhibits
Your trade show staff should understand that they are the face of your brand and only have one chance to make a positive first impression. They should have a strong working knowledge of your products and feel confident facilitating demonstrations to customers who visit your booth.
2) Professional demeanor
There is no substitute for professionalism when it comes to trade show staff. As you evaluate staffing options for your next trade show, make sure that you select workers who are committed to displaying the following behaviors:
Arrives at the booth on time and ready to work each day

Is neatly dressed and groomed

Avoids eating or chewing gum when interacting with customers

Uses appropriate language when interacting with attendees and colleagues

Refrains from taking extended breaks or leaving early
3) Keen attention to detail
Part of being a stellar trade show worker is having a strong attention to detail. This means keeping the trade show booth clean and organized while also ensuring that customers have access to plenty of catalogs and literature on your products and services. Many trade show veterans have also mastered the art of keeping a watchful eye on competitors' booths throughout the day.
4) Engages appropriately with customers
Knowing how to properly engage with customers at a trade show is essential to building fruitful long-term relationships. Below are five ways that seasoned trade show staff endear themselves to customers and set themselves apart from the competition:
Properly address visitors using the correct titles (Mr./Dr./Mrs.)

Use active listening skills

Refrain from interrupting

Take detailed notes regarding customer requests

Follow up accordingly on inquiries after the show, or ensure that they are handled promptly
5) A proactive approach
"Passive selling does not work. Just collecting business contacts, whether through a drawing or a give-away, is not the same as generating solid leads. Your booth staff needs to interact with each attendee who expresses interest. That means that staff should never be caught sitting down on the job, unless with a prospect.

- Karin Roberts, Trade Show News Networks
Gone are the days when trade show exhibitors could sit back and wait for prospective customers to visit their booth. If you staff your booth with passive employees, you will lose business to your competitors who are using a proactive strategy. Ideally, your trade show staff will use the following tactics to engage with prospective customers:
Extend a warm greeting to visitors who approach the booth

Offer freebies and incentives to people who agree to place an order during the trade show

Engage in upselling and cross-selling when appropriate
6) Maximizes time at the booth
As an exhibitor at a trade show, you only have a limited amount of time to connect with attendees. Top trade show employees make every second count to produce an impressive ROI. The most accomplished trade show staff use the following measures to maximize their time at trade shows:
Wait until floor traffic is slow to get a bite to eat

Use any downtime to follow up on leads

Schedule key meetings with trade show attendees in advance

Follow up on any hot opportunities each evening after the show
What is the single best way to ensure a successful trade show?
As outlined above, your trade show staff should always represent your brand professionally and enthusiastically. However, the single best way to pave the way for a productive trade show is to enlist the guidance of an expert in the event management industry. With the expertise of a seasoned professional, you can ensure that your trade show staff exceed your expectations and delight your customers. We invite you to visit our website to learn how we can help you maximize your trade show success!