Trade shows can be a great place for your business to start earning a reputation and making connections with customers.
However, the type of connections you form at the booth is often far more telling than the number of interactions you have. A properly planned trade show campaign will allow you to expand upon your current inbound marketing techniques, rather than slipping back into your old low conversion outbound marketing habits.
Trade show marketing should be about forming new relationships, not necessarily making one time sales.
Stop thinking short term, instead think long term.
Here are some of our thoughts about the mindset of successful trade show exhibitors.
Set the Right Goals
Trade show marketing can be expensive, and return on investment is a touchy subject when it comes time to measure the success of your event.

Before you sign up for a large booth and begin printing banners, slow down for one second and consider what it is that you are trying to accomplish at the show.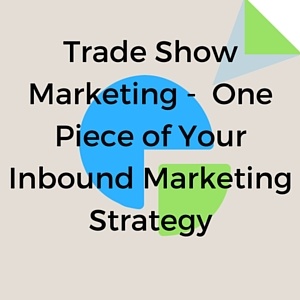 The truth is most people at trade shows do not come with an open wallet.

Instead they are there to compare and learn. They want something to think about, they want quick and dirty facts that they can look into when they get home. They want to meet the people of your company and find someone they trust to provide them with a product or service.
In short, if your whole trade show marketing plan is to show up and make sales, you'll probably be disappointed.

Instead, what if you can get one hundred new email subscribers who want to hear more about your service later on, when they are not being bombarded by sounds and noises from every direction?
What if you can set up ten new appointments for one on one consultations or quotes next week?
What if you can invite fifty new people to download your latest ebook?
All of these metrics are measurable, and a step toward building a long term customer relationship that does not focus on prying their money out of their hands today.
Make It Painless
By the time you've made it to the booth, you know that trade show marketing is exhausting.
It's also exhausting for the people visiting your booth. They are being rushed along amid a current of people. There are flashing lights and loud speakers. And nearly everybody has a free t-shirt, bumper sticker and lanyard that they are lugging around from every vendor they have visited prior to you.
Make yourself a zone of comfort for your guests.
Set up your booth so that people can step out of the tide of people, and really take a moment to converse in peace and quiet. If you want to give something away, how about a reusable shopping bag with your branding for them to put all of their other goodies in?
Make it easy for them to read some quick facts about your product or service on a bulletin, and invite them to sign up for an email list so you can get in touch with them after they have gotten some rest and can be fully present to hear the rest of your spiel.
The trade show environment is taxing on everyone involved, and by the end of the first day, most guests are already burnt out on vendors asking for their money.
The reality is that most small vendors cannot compete with the A-list presenters anyways.
However, you can offer a personalized experience and a genuine interest in improving their lives by taking the pressure off.
You can create hard goals that can be easily tracked without trying to push the hard sale.
By focusing on inbound strategies instead of outbound, trade show marketing can be a natural extension of your existing campaigns.