You're a new brand planning on doing some in-store food sampling and are beginning to overthink things; Which causes you to ask questions like "Will giving away free samples actually increase my sales?" What if people try my products and no one buys them?" After all, who has money to give away products for free?"
As doubt sets in, you believe that giving away free samples may not be the best strategy for your business.
However, you shouldn't let these doubts win because everybody loves to receive free stuff. Wholesale giant Costco knows this all too well. But how exactly does Costco know this? Is there a science behind handing out product samples?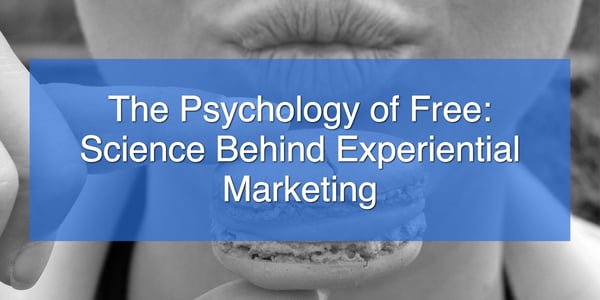 Yes, there is. The truth is that experiential marketing has been a long established marketing channel.
The concept of trying something before you buy it is built on the notion that when people sample a product first, they become more willing or more prepared to actually buy that product; All because sampling gave them a good experience.
Experience is the driving factor. The human psyche consists of the totality of experience.
So, it makes sense that Person-to-person experiences, such as product sampling, help brands connect more with their customers. Plus, experiences are shared with others, especially now more than ever with the use of social media.
Therefore, it's important to understand what's going on under the surface of these experiences and look for the magic behind them.
Psychology affects experiences and vice versa. Thus, experiential marketing and psychology are synergistic. Psychological concepts are continuously at play throughout every moment of an experiential marketing interaction. So let's take a look at some of the leading psychological theories underlying product sampling and see why they work so well. We'll take a look at the following:
The Foot In The Door Theory
The Propinquity Theory
The Context Theory
The Foot In The Door Theory
According to Simply Psychology, this theory works as long as the subsequent significant request is consistent or related to the more trivial first request.
By easing people into your product through consistent mini commitments, such as samples or trial versions, they'll be more inclined to commit to purchasing it.
These minute, light commitments tend to make people more compliant in the future.
The Propinquity Effect Theory
This theory posits that the longer you interact with a person, the likelihood of forming a friendship increases.
Now, this may look like an obvious premise, but many brands neglect this principle. For some brands, it's just about obtaining immediate sales, not really about building relationships with their customers; Which is difficult to consider when customer retention nets a larger return on investment than customer acquisition does.
The notion here is that once you have your foot in the door, so to speak, your chances of making lifelong customers increases by making them lifelong friends.
As a result, you can achieve your goal of gaining lifelong customers by allowing them to engage with your brand face-to-face in real-time.
There's substantial value in sending out brand ambassadors.
The Context Theory
This theory asserts that our surroundings have a perceptible influence on the decisions we make. Precisely put, when someone is shown a brand within a setting that is specific to that brand, he or she will naturally harmonize to the brand and engage with it.
Moreover, context yields an added advantage to experiential marketing that can't be effectuated through conventional marketing channels. Context Theory is the scientific motive for investing in your in-store food sampling and demonstrations.
Conclusion
These are just several of the psychological theories that underpin our experiences. Although these theories may differ on underlying principles, there's still one common theme among them that can help when sampling your product: Getting to know your customer.
Get to know them beyond demographics, age, and income. Sampling your products is the way to start a conversation and increase interaction with your customer. By doing this, you will find the answers to what excites them, worries them and what they talk about with their friends.
In addition, you'll learn about how and why they would use your products. You'll also uncover why they would enjoy it if you presented them with a completely immersive experience.
Once you discover the answers to these questions and really get to know your customers, you'll begin to surely design an experience that will help them bond with your brand.
When contemplating if, whether or not, giving away samples is a practical idea, remember that it's not just about taking risks and giving away products. It's about producing priceless, memorable experiences; Memorable experiences that create long-term advocates for your brand.