Getting ready to sample your product? There's probably two thoughts going through your head. What if I sink all this money into free samples, and no one buys anything? Or, how much my sales will increase from this sampling campaign? If you are hesitant about giving away your product for free, that is understandable. However, sample campaigns have proven themselves effective. The evidence shows they are worth the investment. Like many marketing strategies, there is a psychological element to a stellar sampling campaign. How does it work?
Sales boost:
The numbers don't lie. Letting your customers sample your product will boost your total sales percentage. Some companies have increased their sales by 2,000% with a well-crafted sampling campaign. These numbers will put you in the black fast. You feel the benefits of an effective campaign fast. There are numerous other perks too:
It gets your name out. This is especially vital if you are a new business. Sampling gets your name and product into your target market's hands.

It's an opportunity to develop relationships with your customers. This allows you to earn those loyal clients.

Have you improved or increased your product line? Sampling allows you to inform your customers about those improvements.

If first-time customers like the product they will buy more than once.

Attending a big event soon? Sampling is a great way to promote your business. Then, you aren't a stranger at the new event.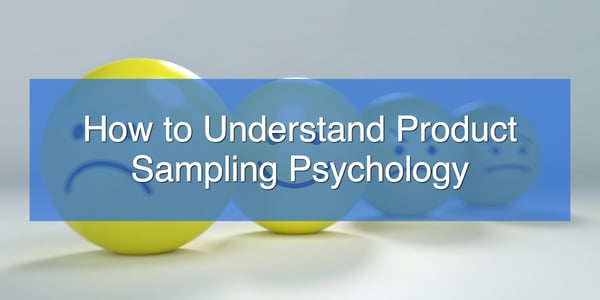 Satisfying a need:
If a customer is at your booth they already have a need for something. The buyer decision process started when they walked into the store. They are looking for a solution and you might have that solution. Customers will look at four factors when they make a buying decision. Cost, availability, preferences, and pre-existing bias. When you communicate with the customer one on one you can overcome objections and bias. They immediately know the cost and typically the product is available for purchase.
The psychology of reciprocity:
Someone does something nice for you and you feel obligated to do something nice for them. This is present in business too. The sale is a sign of gratitude for the free sample. Social pressure is also present in the rule of reciprocity. If customers at your station feel like all eyes are on them to purchase, they may feel obligated to do so. Don't let guilt deter your campaign though. There is evidence that samples work to earn long-term customers.
Sets the tone for your business:
Nothing starts a business relationship off right like free samples. The first impression by the customer is one of goodwill and warmth. These feelings turn a prospect into a loyal client who tells their friends about you. It's a valuable opportunity.
Take it outside:
Taking your samples outside is not what the customer expects to see. It gets their attention which is the first step to earning the sale. Taking your sample station outside is good for you and the store. It gives the feel of a special event. It's not every day you see merchandise outside instead of inside.
Good for your brand and the store:
An effective campaign is good for you and the store where you have your booth. When customers have an awesome experience with you, it reflects well on the store. Then, they want to come back to the store more often. Statistically, they will also spend about 10% more due to this positive experience. This is also an opportunity to make a great first impression with your suppliers. In-store samples are mutually beneficial.
Costco is a classic example of how effective sampling improves sales. Online shopping has become huge over the years. You can cut your grocery shopping time down substantially by shopping online. It's the perfect solution for people who are short on time. So, why do so many loyal Costco customers make a weekly trip to do grocery shopping there? It's all about the customer experience. It's worth it to them to carve time out of their busy schedules to walk through all the aisles sampling the new products.
How wineries plan for success:
Wineries are experts at sampling. They understand how psychology and organization play critical roles in a successful tasting. There are components that are prevalent in each tasting.
Excellent customer service. Most customers have made a special trip to make the tasting. They are there because they want to be not because they must be. Sommeliers educate and entertain their clients during the tasting.

Create an enjoyable environment. Wine tasting is an experience the atmosphere should be pleasant. Make customers want to buy the wine.

The experience must be memorable. If a customer can't remember the experience, how are they going to tell their friends about it?

Execute a retailing strategy. Store design plays a role in how effectively the buying process will go. You don't want to make the process difficult for your customer. Cross merchandising will increase sales and benefit your clients.
Understanding the psychology behind sampling is a key to success. When you understand this, you increase your likelihood of an effective campaign. Want to increase your sales and brand awareness? Investing in samples is the way to go.