No doubt a demo marketing campaign with a clever "hook" will have the effect of sticking in the heads of the audience forever. The crazy thing about demo marketing is that the script doesn't even have to make sense. An audience is there to see a performance. Onlookers are prepared to be dazzled. If a company chooses the right demo marketing company with the skill to craft an amazingly effective demonstration that is pure theater, everyone that is "hooked" will turn right around and spread the word. Here are 4 demo marketing strategies used by some of the most famous brands to hook and dazzle the world:
The Next Level Key: So you have a great product. The challenge when presenting it to consumers is that the average shopper's response will likely be, "Been there, done that. Seen it all before. It's nothing new." In other words, to get your brand to make an impression in the minds of seasoned shoppers, you have to take it to the next level. What are the options? How does a marketing demonstration transform from a brand ambassador droning on about the qualities of a product they are putting through its paces into a brand that becomes an unforgettable icon? The key to some of the most successful demo marketing campaigns lies in posing a challenge.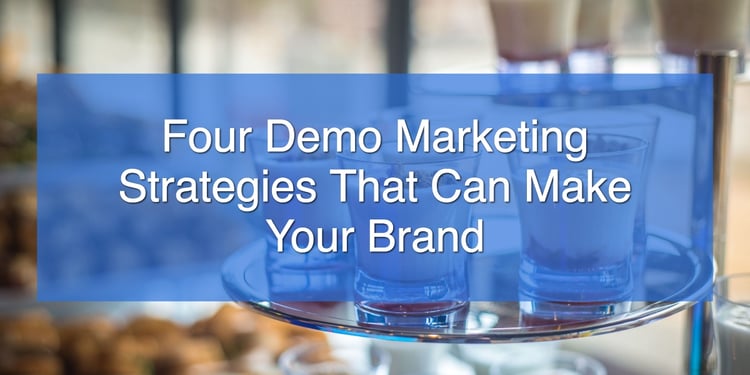 1. The Taste Test
A bit of high-stakes competition that gets the consumer actively involved in the demonstration is a sure-fire win.
First of all, everyone wants to see who the winner is when the gauntlet is thrown down in any kind of challenge.

Secondly, consumers trust each other. Get a complete stranger to prefer the flavor of your brand over a well-known product and the audience will certainly be impressed.

Thirdly, inviting the public to participate signals an openness that is perceived as honesty. It is the first step to creating a relationship with consumers that can lead to brand loyalty.

And, lastly, the willingness to set your own brand up in a challenge that could result in failure is a sign of a company's complete confidence in what they are offering.
What can be more titillating to an audience than the anticipation of seeing whether a bold, new brand fails or succeeds against the popular favorite?
2. What Happens Next?
This type of campaign places a product in risky situations, asking the audience what they think will happen. Of course, the "what" that might happen is all related to the quality or performance of the product. For example, say your product is a mattress. Your branding claims that it is the sturdiest yet softest mattress ever. How do you prove it? You stage a compelling demonstration.
Perhaps you place the mattress on a hard surface with an unbroken egg to represent a sleeping person. The brand ambassador performing the marketing demonstration reveals a bouncy basketball to the audience. Imagine them dribbling around a bit, showing off with a few bounces between the legs and a spin of the ball on their fingertips. Then the brand ambassador poses the question, "What might happen if I drop this bouncy ball onto the mattress from 20 feet in the air?" As the question is asked, the brand ambassador points to a ladder placed beside the mattress. The representative climbs. The ball is dropped. And, voila, the ball does not bounce but is immediately embraced into stillness by the foamy softness of the mattress and the egg survives intact.
So, what happened next? The audience is so impressed that the experience is never forgotten, nor the name of that mattress brand. But is it only the drama that makes an impression? No. Inherent in this type of marketing demo is the element of risk. This little drama communicates that a company has complete faith in their product. But it also has the element of the bizarre that will always make a lasting impression. I mean, think about it, how many people keep eggs on their beds or play basketball in the bedroom? Demonstrations with an outrageous edge create images that stick in the minds of observers.
3. Is It Possible?
Just as the bizarre makes a lasting impression, taking things to extremes are demo marketing campaigns that truly prove the mettle of a product while, at the same time, giving consumers an experience that they will never forget. But how does a demo go to extremes safely?
Consider this current era of smoothies and juicing. Say your company sells blenders. You brand your products as having the features of a Cadillac with the heart of a Peterbilt. A brand ambassador reveals an elegant kitchen accessory anyone would be proud to have on their kitchen counter. Then they proceed to "blend" parts from Cadillacs and Peterbilts. The marketing message received by the audience is, "If a blender still works perfectly after going through a series of hacking to bits gear shift knobs and cup holders, imagine how it will perform grinding and grating carrots, spinach and beets."
And don't forget about how the audience will go away talking to all of their friends about that crazy person blending up car parts at the grocery store. Who knows, they may have even taken a video with their smartphone, posted it on social media and your demo marketing strategy has now gone viral.
4. Make 'Em Laugh
Parody strategies, when done right, can be incredibly rewarding, literally. Demo marketing strategies generate sales simply because a company takes a risk by linking their product with a current popular trend. How do you do that? You appeal to something that we all have in common and make a lark of it.
If you have a product that has wide appeal, like candy, determine a common challenge to having candy in the house. Everyone wants it. If it happens to be someone's favorite, the greatest fear is to arrive home and find that the last piece has been eaten by someone else. What do most people do to prevent such a horror? They hide a piece of candy in their secret stash. This is something everyone can relate to. Now for the parody, pairing it with something trending in pop culture.
Choose something safe and non-controversial. Try an action-adventure character that is a household name. For example, we all know who Indiana Jones is. The demo then involves a hider of candy who is faced with living with an Indiana Jones type character. How does one possibly hide a piece of candy from someone who has survived booby-trapped dungeons and obstacle ridden ancient tombs as they hunt for hidden relics? The candy-concealer must craft a creatively clever trap around the candy that only they know how to resolve.
Parodies are fun, positive and memorable. They make a connection in the minds of consumers between your product and something that is already a proven success.
Now that you know 4 demo marketing strategies that can make your brand, you need to find a demo marketing company with the skills to pull it off. Look for an agency that has experience as well as the talent to staff any type of marketing demonstration. Get the right expertise and see an explosion of results in sales.