When setting up a store or booth at a convention or trade show, it's important to have the right staff. As the business owner, you have a unique role at the convention: engaging with high-value attendees, making business connections, and driving large-scale partnerships. If you get stuck answering every question that comes to your booth, you may miss out on some key opportunities. Furthermore, many conventions are so large that one or a few people simply cannot meet the booth's demands.
Your booth staff has an important role: interacting with all of the attendees who visit your space. As they make small sales, give out samples, and have conversations about the company, you need to be the one visiting other key booths, talking with potential wholesalers and new major clients, and implementing your convention strategy.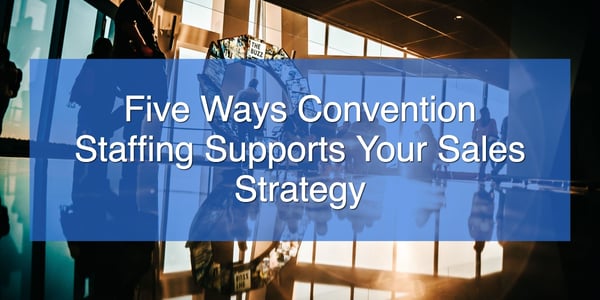 The Importance of Sales Strategy At Conventions
As in any event, attending a convention successfully requires strategy. Without a good strategy, some business owners walk away from a convention with little changed. They've spent a significant amount of money with little to show for it except the vague notion of "exposure." Other business owners leave a convention with a long list of promising leads, a fistful of potential partnerships, and a group of new clients. These entrepreneurs use their resources strategically and hire the staff they need to deal with lower-order concerns and promotional tasks.
How Convention Staffing Supports Your Sales Strategy
Here are some of the reasons why it's important to use convention store staffing at your next industry convention or trade show:
Convention store staff are trained in sales strategy. Convention store staff are trained, outgoing, friendly sales professionals who will treat the public with care and respect. They know what works in terms of trade show and convention sales and will eagerly interact with convention attendees without aggressiveness. These staff members have worked many conventions and bring their wealth of experience to your booth, including their polished, professional presence. You might even pick up strategies from your staffers that your company can use at future events.
Convention store staffing saves you money. Attending conventions is worth it, but these events can be pricey, especially if you're flying your whole team out to staff the booth. Convention store staffing means that you will need to fly out only your key staff instead of your entire team. This practice saves you money, so that you can focus resources on the most important parts of your convention presence. When you do a price comparison, there is no question about which option is more cost-effective.
Convention store staff run the booth when you can't attend. Do you have another business obligation at the same time as the convention? Do you have a family health concern and are worried that you won't be able to attend? If you can't attend the convention for all or part of the session, your staffers can take care of the booth for you. Ideally, you will be at the convention working on deals and growing your business, but if you can't be there, your staffers can be.
Convention store staffing helps you build your list of leads. Ideally, you will walk away from a convention with the contact information for as many leads as possible. This is, of course, a key sales strategy. What is the best way to build this list of leads? Full coverage of your booth. Convention store staffing allows you to roll out a robust lead-building strategy so that you can get the best coverage possible from the space your booth allows.
More staff means more brand awareness. Even at a trade show, passersby may feel a little shy. You want to make sure that you have plenty of person power to draw in anyone walking by. You can't afford to miss out on a key opportunity because you didn't have enough staff to talk to everyone. Hiring plenty of staff also ensures successful giveaways, product activation, and lead registration.
Who Provides Convention Store Staffing?
Convention store staffing is a unique niche that requires particular sales-based skills. You don't want to engage with just any staffing company. It's important to hire a company that enlists sales professionals with convention experience who can help you maximize your impact.
Sonas Marketing works with companies like yours to meet your business goals at conventions, trade shows, promotions, and other events. Contact us to learn more about how we can support your company's growth through special events like trade shows and conventions.