Although many beer drinkers are hearty loyalists, there are those who are cross-over drinkers.
A cross-over drinker appreciates a fine wine as much as they enjoy a cold brew.
Considering the interest California wineries are taking in the craft brew industry, it may be time for craft breweries to wake up and follow this lead.
Developing a wine or craft liquor option to your craft beer offering means broadening your craft beer branding to allow for this overlap.
Overlapping Wine & Beer
One success story about a California winery who overlapped into craft beer production begins with a family of Mexican immigrants.
Amelia Ceja came to America to pick grapes. Hard work eventually led to the formation of one of the first U.S. wineries created by first generation immigrants from Mexico. Amelia, her husband, his brother and wife, are the owners of Ceja Vineyards.
Amelia's brother-in-law, Jesus, is a master brewer who learned his craft in Missouri at Anheuser-Busch. Expanding the capabilities of Ceja Vineyards to include the Carneros Brewing Company was only natural.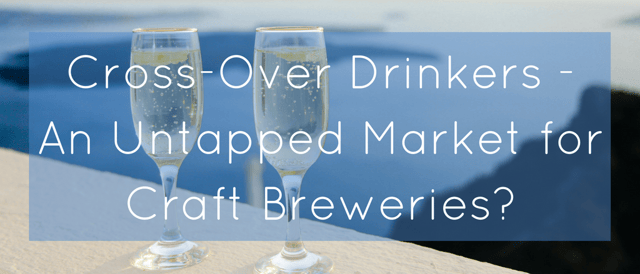 Why The Overlap Works
By crafting wine and beer together, chefs point out that it is easy to pair either with a meal. There is synergy between two spirits that originate from the same inspiration.
Distributors find that restaurateurs embrace featuring brews and wines that were locally produced from the same manufacturers.
Natural Growth
Launching a new spirit distinct from your craft brew has great potential for success.
By working from an established market, a craft brewery can market a wine under a brand that already has a following.
If a brewery has a beer club with members signed up for e-mail notifications, special promotions as well as a social media audience, a consumer base already exists. The cost of a marketing campaign to introduce a new product is reduced because a marketing structure already exists.
The Demand Is There
Although a craft brewer may have big vino dreams, it is all for naught if the market is simply not interested.
The good news for brewers who would like to dabble in vintages is that it is very common for dinner companions to prefer one or the other.
Whereas one might go straight for a locally brewed beer, a dinner companion just as often prefers a glass of wine with a meal. Cross-over drinking between beer and wine is in strong demand.
The Local Preferred Trend
This past May the U.S. Department of Agriculture (USDA) released its numbers on consumer demands with regard to locally produced food.
In 2014 locally produced food sales brought in $12 billion. Demand is showing no signs of slacking. The USDA expects that by 2019 total sales for locally produced foods should reach about $20 billion. There is no doubt that craft brewers could tap into a wine market in their local communities.
Taking Advantage Of Opportunity
To encourage the agricultural industry to meet the expected uptick in demand for locally produced foods, the U.S. federal government plans to continue to invest in local farmers through program such as:
For craft brewers this could mean assistance in procuring land for crops of hops, wheat, barley or grapes.
Launching a new craft wine with the assistance of a microloan offers the opportunity for extensive market saturation with an advertising campaign crafted by experienced professionals.
Regular participation at a local farmer's market is the perfect place to build a strong relationship within your own community, as well as generate interest for locals to tour your brewery.
How intriguing if they also got to watch your local brewery expand to include a vineyard and wine-tasting room. Being a part of your growth is one more way to build the loyalty of a local community who comes to see your brand as a family fixture.