Everyone who has ever visited a grocery store on sample day is familiar with the plain little plastic cups. No matter how delicious or attractive the sampled product inside might be, the cup itself somehow brings down the whole experience. These cups are usually clear plastic, paper-thin, and let's face it: They don't exactly show off your product. Customers take an impression not only from the product itself, but the way it is presented. You can emphasize the quality and style of your product and make your clients feel special simply by getting rid of those plain little plastic cups or toothpicks and mixing it up a little.
Here are seven creative and fun alternatives to the plastic cup that will make your customers smile and your product look like fun in and out of the store.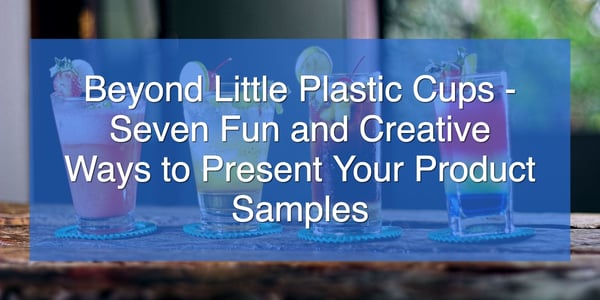 1) Cocktail Classes
Are you giving out free samples of an alcoholic beverage, or even just a brightly colored drink? Little plastic cocktail glasses are made of almost the same stuff as plain sampling equipment but with a flare of fun that customers won't expect. You don't even have to stick with a single shape of cocktail glasses. Mix it up by decorating your sampling table with tiny martini, margarita, and mixer glasses that remind your sampling customers of the fun they can have at home or out at the bar when they buy their product for themselves.
At the very least, you will find customers delightedly holding their tiny glasses in two fingers, toasting with each other, and pretending to be tipsy as they permanently associate your product with party time.
2) Tiny Teacups
Want to go the other direction? For drinks and some desserts that you want to market to families instead, there's another kind of little plastic cup that is much more fun than plain clear plastic. Tiny teacups remind almost everyone of their childhood toy sets (or sets belonging to their sisters and grandmothers). And everyone loves pretending to drink tea out of a toy teacup, even if they would never admit it.
Look for adorable and inexpensive plastic teacups, ideally with little saucers to go with them. These are great for hot drinks or cold, ice cream, puddings, and even little pieces of colorfully layered cake to eat with tiny teacup-sized spoons. Everyone from toddlers to grandparents will enjoy your samples, holding out their pinkies and giggling as they taste your product.
3) Plastic Swords
Are you sampling something that would normally be loaded onto toothpicks in bite-sized pieces? Everyone is familiar with the sampling toothpick, plastic or wooden, and these are generally seen as nothing special. While more flattering than your standard sampling cup, a toothpick also doesn't do anything to enhance your sampling experience either.
But there is a fun alternative that is very easy to source: Little plastic swords. These cutlasses, longwords, and scimitars come in a variety of fun colors and are fantastic for serving anything from cheese to cheesecake squares. Not to mention the amount of fun your customers will have slicing up their samples and then having tiny sword fights in the store isles.
4) Miniature Product Packaging
Of course, mass-produced sampling fare aren't your only option. Some brands decide to make their own sampling containers and utensils when it comes time for a fantastic sampling campaign. And everybody loves a miniature. If you want to permanently associate your product with its own packaging during the sampling events, simply create open miniature versions of your product packaging.
From little popcorn boxes to tiny glass tea bottles, you can delight your customers with packaging miniatures made bite-sized. They will know you put some special effort into creating the serving dishes and will have your brand design emblazoned in their minds as they try your tasty bites or sips.
5) 'Sushi' Style Rolls
Then there's the option of making your samples finger-friendly. Many samples are easy to eat with thumb and forefinger or, for creative samplers, with a pair of fun disposable chopsticks. Whether your product is lunchmeat, cake, or something more unique, consider creating a 'sample roll' like sushi that can be eaten by hand without the need for a cup or bowl.
6) Paper Doilies
Finger food is a favorite for customers of all ages, but the way you hand customers their samples can matter a lot to presentation. Rather than using a cheap paper napkin like so many sampling campaigns before you, consider 'dressing up' your finger food samples with something a little fancier.
Decorative paper doilies are easy to source, cheap to buy in bulk, and add a special flare to your sampling table that a square napkin never could. Paper doilies are best for items that are dry so that nothing about the product can 'soak through'.
7) Snack Tubes
And if you want to get really fun, one of the most creative ways to get samples into customer's hands is with snack tubes. Like ice pops have been doing for decades and yogurt has recently started mimicking, you can pack your sampled snacks into a squeezable tube. This precludes the need for any cups, bowls, spoons, or napkins. Even something chunky like chopped fruit can be served in tubes (or waffle cones?) so that customers never have to worry about setting extra utensils into their carts.
A great sampling campaign requires more than a table and a tasty product. You want to get creative and provide an unforgettable experience. Whether you start an impromptu tea party or spontaneous mini sword fights, don't settle for plain old plastic cups. Show your style and share your samples in a way that will inspire customers to continue thinking of creative ways to eat or drink your products at home.