Promoting a new beer is just as important as brewing it.
Whether it's an IPA, pale ale, lager, etc., craft breweries must spread the word about their product. Beer marketing has evolved over the years, with craft breweries transitioning to more effective platforms.
Here are a few of the top beer marketing trends to watch in 2017.
Label Contests
Breweries both big and small have used label contests to promote their products.
Basically, this involves creating a special edition beer and asking the community to submit designs for a label for it. After collecting enough label designs, you can select one as the winner, rewarding the person whom submitted it with a prize such as a free case of beer, company-branded t-shirt or other "swag," or a gift card. It's a win-win for both the designer and your brewery.
Even if you decide to a host a label contest for your beer, though, you'll still need to consider whether to use a paper or poly material. Paper is cheaper, but poly is stronger and more durable.
Gluten-Free Beers
Affecting between 1-2% of the general population, Celiac disease is a widespread medical condition that's characterized by severe intolerance to the grain-based protein known as gluten. When someone suffering from Celiac disease consumes gluten -- or a food or beverage containing gluten -- his or her immune systems attacks the stomach, causing a world of digestive distress.
With Celiac disease on the rise, many people are now taking a proactive approach towards choosing gluten-free products, including beer. This has spawned a newfound interest in gluten-free beer, catering specifically to this demographic. As explained in this Wikipedia article, gluten-free beers are typically brewed with millet, rice, sorghum, buckwheat or corn instead of rye or barley. You can expect to see more gluten-free beers being marketed in 2017 and beyond.
Local Events
Craft breweries are also leveraging the power of local events and "festivals" to reach their target audience and promote their beers. Just last year, the Great American Beer Festival held its 35th annual event, which attracted some 60,000 attendees and 780 breweries. Even more impressive is that tickets were sold out in just 1 hour and 7 minutes after going on sale.
Of course, the Great American Beer festival is just of one of many beer events lined up for 2017. As part of American Craft Beer Week, 2,018 events are scheduled to take place across 50 states from March 15-21.
Data Analytics
If a brewery isn't using data analytics, it's missing out on a powerful way to enhance its operations and increase sales. Heineken, for example, has a partnership with the social media network Facebook, allowing the Dutch brewing company to capture data about how users react to their brand. Heineken uses this data to deliver highly targeted marketing campaigns, matching their products with the right demographic.
Another way in which Heineken uses data analytics is the application of behavior-tracking sensors at Walmart stores. These sensors reveal where exactly consumers pick up the Heineken's beer inside the store. If a particular aisle or location yields more sales, then Heineken can focus its efforts here.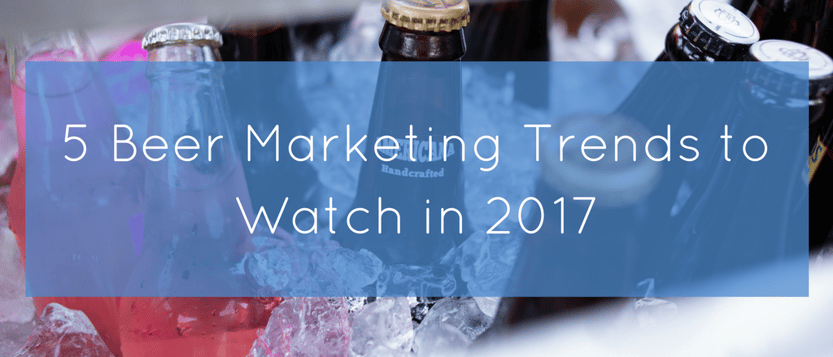 Interactive Expos
While many breweries offer free beer tastings at their event booths, some are going the extra mile by creating a more interactive experience.
At last year's South by Southwest (SXSW), Anheuser-Busch did the unthinkable: they combined beer with virtual reality. The St. Louis-based brewery created a "Budweiser Beer Garage" inside SXSW's Ironwood Hall where attendees could take a virtual brewery tour while wearing a VR headset. This wasn't just an ordinary VR experience; it combined sight, sound, taste and smell. You read more about this bold marketing idea over at AdWeek.
If you're looking for new ways to get your brand out into the market, these are a selection of ones we think will be popular into 2017 and beyond. We'd love to hear your take, what do you think is going to catch fire this year?